I've been looking for a C3 for a long time but couldn't find one to our taste. There are several changes during the years on the C3 model.
TheC3 on my wishlist had to include the following:
Straight rear window instead of a curved one
Manual transmission
No chrome bumpers
We've visited some dealers who were selling their vette but as I've read on the heatbeat Corvette Forum: Never b\uy the first corvette you fall in love with!!
During a weekendtrip to Friesland (300 km from here) with my girlfriend (now wife) we had to stop at a gas station to fill up our daily driver. A Chevy pickup truck stopped besides me for filling up. Since he had a smallblock I was wandering what the fuel consumption would be. During the conversation I mentioned that we were looking for a corvette and his reply was: Go 3 times left and there you'll find one. This was an indutrial area in the middle of nowhere.
And there it was: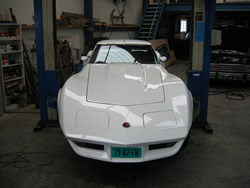 When we entered the building the car was on the bridge, so I had the chance to inspect the bottom of the car as well. The frame was a bit rusty but fine (lateron it was only surface rust)
. The engine was leaking oil and so was the differential.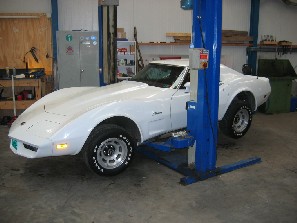 The car was being prepared for legalisation for the Dutch road the following Tuesday. After considering the purchase during the weekend stay, we decided to buy this vette.
We managed to reduce the price because the car's paint needed some spotrepairs and we decided to do these ourselves.
This is at the rear of the car: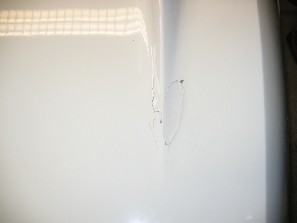 And there was a small hole in the left fender.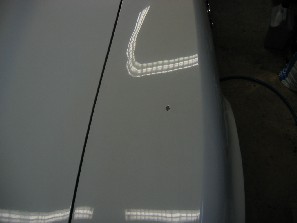 And the bumper wasn't as smooth as it should be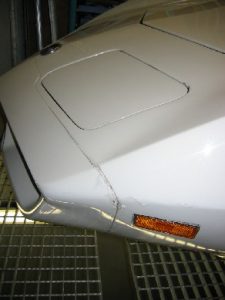 After alowance we had to wait 1 more week until we could pickup
the car. This was on December 5 2005.
We were counting the day's, night, hours, minutes and seconds! before it was time to pickup our dream vette.
Early in the morning we drove again 300 Km to the north to pick up our vette. We even got there quicker than the car dealer who was picking up the license plates.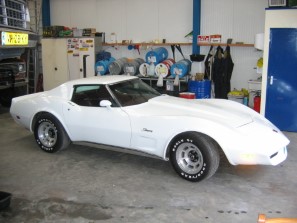 When the payment was done we drove off. This was our first drive in a corvette!!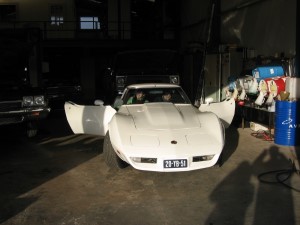 On the first road we had a slow driving car with a trailer. During overtaking I had to take over and then it came!!!!!!
Massive play in the steering gearbox. The car was still on the road luckilyn and not in the canal beside it. The remaining 299 Km we drove very slowly and carefully.

We decided to fill the car at that particular gas station.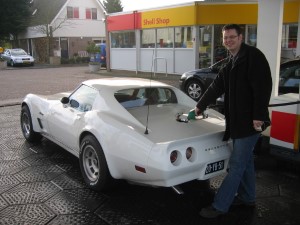 I've never achieved that milage again hahaha.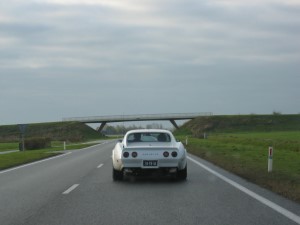 Lateron the free play was easily taken out by turning the adjuster screw on the steering gearbox.